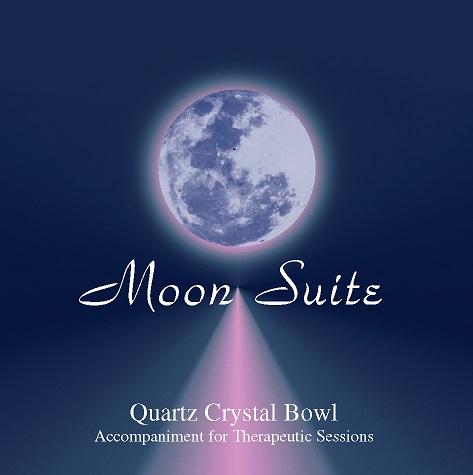 Moon Suite Digital Download
Moon Suite is a Polarity Therapy Session in sonic form, performed on 18 quartz crystal bowls by Kris Stecker.
This recording combines the science of sound and energy work, using the principles of intervals, frequency and entrainment to affect the energy field of the listener to induce a deep state of calm and balance. The results are a sonic polarity therapy session that balances the elemental energies as well as works on specific energy patterns so you are relaxed and clear.
Whether used during healing sessions, as a meditation, to clear the energy of a space, to calm a child or person in trauma, the Moon Suite recording is designed to be used repetitively to help clear, refine and stabilize the energy system of the body.
For best results, the high definition .WAV file or a CD has the most profound spectrum but is only useful when played on high quality equipment. Using speakers will give you the best result since the sound works on the entire body. If listening with headphones, the sound still has an effect on the nervous system and the energy system on a secondary level.
When listening on speakers, it's important to keep the volume low enough to avoid distortion. Inexpensive speakers simply cannot handle the intensity of the sound generated by the quartz crystal bowls. Low volume also allows the body to relax into the sound without feeling overwhelmed.
Please never use this recording while driving or doing activities that requires concentration.
Your cart is currently empty
Moon Suite Digital Download